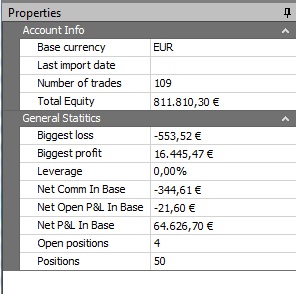 Properties window shows general statistics about your TradingDiary Pro.
There are two sections.
Database info
Database info section shows information about database. The base currency, trades number, the last import date and the last total equity value.
General Statistics
General statistics shows information about the selected view. Available only when Positions or Open positions view is activate. If a filter is applied for the view the general statistics also changes its values according to the selected filter.
Available properties are the leverage, biggest profit, biggest loss, positions, trades, open positions.