TradingDiary Pro supports the import for FXCM clients.
Start your FXCM Trading Station software.
Press the Reports or the Shift+R. The following window appears: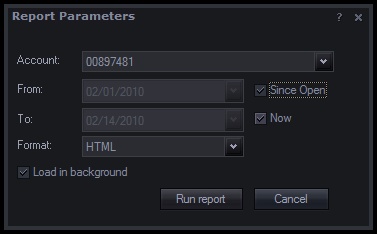 Tick the Since Open and Now check boxes, set format to HTML and press Run report. When the report has been completed a file dialog appears. Save your report. For example into the Documents/FXCM_Reports/ directory.
Go back to TradingDiary Pro. Set 'FXCM Trade Station html file importer' as the import module. For detailed information read the Import Introduction chapter.
Click on the 'Import/Import - FXCM Trade Station html file importer' menu. A file dialog appears. Select the previously saved html report and click on Open.
You are done. Now you can see the import manager which shows the number of the imported elements.