TradingDiary Pro trading journal supports importing data for Thinkorswim clients.
Start Thinkorswim trading software. Go to the Monitor tab and select Account Statements.

Monitor tab
Change the date range according to how many days you would like to import.
Please make sure that the following columns are visible (only visible columns are exported to the excel file):
Cash & Sweep Vehicle - Cash Balance:
oRef #
oMisc Fees
oCommissions & Fees
oAmount
Order History - Account Order History:
oTime Placed
oSpread
oSide
oQty
oPos Effect
oSymbol
oExp
oStrike
oType
oStatus
oOrder ID
Trade History - Account Trade History:
oExec Time
oSpread
oSide
oQty
oSymbol
oExp
oStrike
oType
oPrice
oOrder ID
Equities (optional):
oSymbol
oDescription
oQty
oTrade Price
oMark
Futures (optional):
oSymbol
oDescription
oQty
oSPC
oExp
oMark
Options (optional):
oSymbol
oOption Code
oExp
oStrike
oType
oQty
oMark
oMark Value
To change the visible columns in each section please click on the small gear icon at right (highlighted by yellow). Each section has it's own setup.

Account Statement setup
Click on the small lines icon next to the arrow and click on the Export to file menu.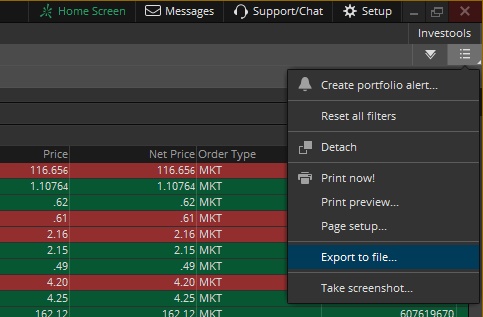 Export to excel file
A file dialog window appears. Change the file type to CSV (comma separated value).
Save your statement. For example into the Documents/TOS_Statements/ directory.
Go back to TradingDiary Pro. Set Thinkorswim as the import module. For detailed information read the Import Introduction chapter.
Click on the 'Import/Import - TOS CSV File' menu. A file dialog appears. Select the previously saved csv file and click on Open.
Done. Now you can see the import manager which shows the number of the imported elements.
You can check the video tutorial as well.