From version 2.4 the software support creating of portfolio based on the trades of other accounts.
1. Create a portfolio/virtual account
First you have to create a virtual account. Virtual accounts cannot have trades. It can hold only assigned positions from other accounts. Click on the Account/Manage menu. The accounts window appears.
Click on the Create New button. Set the name, the account id and tick the Virtual check box.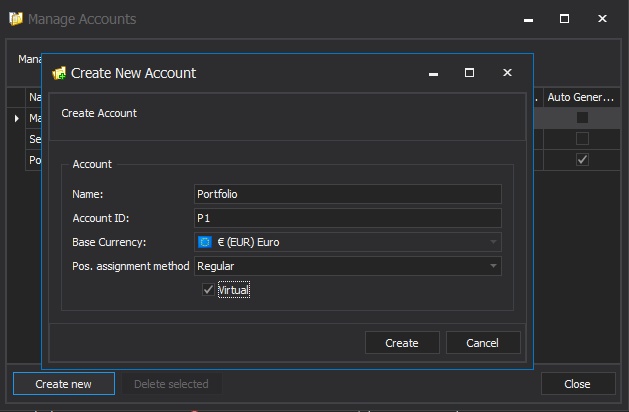 2. Set initial deposit for your newly created virtual account.

3. Assign/allocate positions.
Open the positions view. Right on the position which you'd like to assign to the portfolio. You can select from the predefined percentage of values or you can enter a custom value from 1% to 100%.

4. Generate total equity for the portfolio.
If you set the initial deposit for your portfolio account then you will be able to generate the equity values for the portfolio. It helps to check equity based the performance metrics like Internal Rate Return or Sharpe ratio.